History
From ويكي عربآيز

This is the page to keep track of the Arabeyes history.
A few of us were disappointed with the lack of Arabic support on the Linux/UNIX platforms and decided to do something about it ourselves.
The Arabeyes project used to be under the name 'Aunyx', which was started on January 2001. Our main recruiting efforts targeted the underground and the hacker world, under the assumption that they would be more familiar with the Linux/UNIX systems. That search did not yield the expected results. Plus the mandate and steps, during our Aunyx days, weren't very clear and didn't seem to lend themselves to a concrete goal.
During the Aunyx days, most of the work concentrated on documentation and how to go about it. Several papers/proposals were written on the subject. Then, in the summer of 2001, with the addition of a few more members, we changed our name to Arabeyes in an attempt to make it catchier, easier to remember and to spell :-). We also rethought and revamped throughly our approach and how to attain our goals. Most of those exchanges and emails are still on our 'general' mailing-list archives.
With the change over to Arabeyes, we adapted a charter and looked at past projects' failures and successes, and decided that this effort is larger than any and all of us, and that the project is paramount and should survive irrespective of the founders. We decided to adopt an Open Source license to further enlighten the Arabic World of its existence and its importance. We wanted to put something together that was a grass-roots effort in which decisions are made by consensus not based on politics or money, but on technical merit with the notion that the "best idea wins" always.
Because our philosophy in Arabeyes is that this is a grass-roots effort, the question of who started what takes a backseat. Mohammed Elzubeir was the one who started the Aunyx project, which was soon joined by Chahine Hamila (author of Akka). When Nadim Shaikli came across Aunyx back in July 2001, he put forth several suggestions and the project was re-ignited. The name was changed to Arabeyes and it quickly evolved to what it is today. If you want to see the way things happened, it is all archived in the 'general' list archives (start with the July 2001 archives).
Old Logos

Logo 1

Logo 2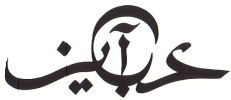 Logo 3
Old Banners
Banner 1
Banner 2
Banner 3